Lev Chek Wave Soldering Gauge
Lev Check Solder Wave Gauge is a custom high temperature resistant tempered glass panel made similar in size and shape to a printed wiring board and is designed to be used on wave soldering equipment to monitor flux coverage, wave shape, wave turbulence, leveling of conveyor and other soldering quality factors. Heat resistant gauge markings are printed on the top surface of the LEV CHEK glass in 1" or 1cm grid patterns. The tempered glass is designed for normal wave soldering temperatures. When used according to the recommended procedure, LEV CHEK glass will not break from the heat of the molten solder. Flatness of this precision gauge is essential to its function. The gauge surface is held to a flatness tolerance of 0.0003 inch per linear inch.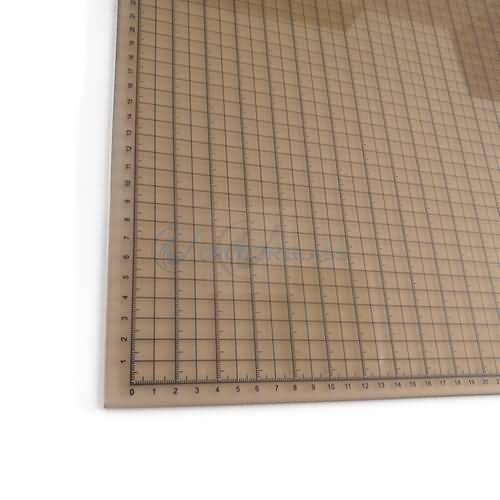 Features:
• Durable, specially tempered glass panel
• Monitor flux coverage, wave shape, wave turbulence and conveyor leveling
• Enable process calibration and optimization
• Heat resistant grid patterns on upper surface
This product is made of imported glass raw materials, which can not only withstand the change of temperature difference between cold and hot fusion. In addition, it will not break when touching water at 780 ℃. Temperature difference of cold and hot fusion: 850 ℃ Thermal stability (cold and hot shock): - T 860 ℃ Maximum safety temperature tolerance: ≤ 1000 ℃. The scale standard of the product is 10 * 10, and the normal specifications are 128 * 178mm, 200 * 250mm, 200 * 300mm, 250 * 300mm, 280 * 380mm, 500*500mm, 600*600mm, and customized size according to client request.
Chemical properties:
Water resistance ISO719/DIN12111 HGBI
Acid resistance ISO1776/DIN12116 3
Alkali resistance ISO695/DIN52322 A2
The thickness is generally 3/4/5MM. Other specifications can be provided according to length, width and scale.