Reflex level gauges is also known as reflex liquid level gauge, ovictor reflex level gaugees allow the medium to be viewed through a reflex glass: The side of the glass exposed to the medium has a prismatic surface, while the other side is smooth. The medium level inside the level gauge is indicated by means of the light refraction principle, i.e. the liquid-filled area completely absorbs the rays of light and appears dark, while the rays of light are fully reflected in the gas / air-filled area, which subsequently appears bright. The liquid level gauge adopts quick opening valve, which can quickly open and close the valve by 90 degree rotation of wrench.
Ovictor reflex gauge glass is an high cost-effective universal level indicator without the dependent on electricity which is used in petroleum industry, chemical industry, electric power, shipbuilding and other fields.
Reflex level gauges offer great advantages in terms of low purchase and maintenance costs as well as with regard to easy level reading. How, they cannot be used in certain cases, for example when the separation level between two liquids has to be read, when disposing the liquid color is required or when high-pressure water steam or corrosive liquid has to be measured.
Product Features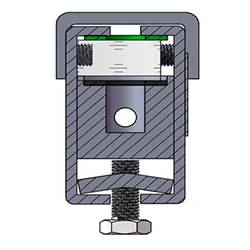 Easy to instal, cost-effective
Quick open/close
Direct view of the fluid level
More economic solution for fluid level checking
Different refraction behavior with liquid and gas
Easy maintenance and very long service life
Suitable for steam media up to 32 bar and process media up to 400 bar
Main Technical Data
Model

Reflex Level Gauge

Transparent Level Gauge

Body Material

Galvanized Cast steel

Carbon Steel

Titanium alloy

Stainless Steel 304/316L

Center to Center Length

285-2590mm

300-3600mm

Visible Length

141-2433mm

95-3360mm

Glass Material

Borosilicate glass

Aluminosilicate glass

Borosilicate glass

Aluminosilicate glass

Gasket

Compressed fiber gasket

Graphite gasket

PTFE gasket

Compressed fiber gasket

Graphite gasket

PTFE gasket

Mica Shield

N/A

YES

Working temperature




≤450°C

≤450°C

Working Pressure

40bar

100bar

Connection Tytpe

Flange/Threaded

Flange/Threaded

Illumination System

According to request

According to request

Frost Extension

According to request

According to request

Connection Layout

Side-Side/Side-bottom

Side-Side/Side-bottom