Reflex level gauge is as known as reflex glass level gauge and prismatic level gauge. Reflex level gauges are commonly used for level detection within a vessel, and the primary principle is based on the difference in refractive indices of vapor and liquid. Compared with transparent level gauge, reflex level gauge can display the liquid level more clearly without the aid of auxiliary light source.
Reflex level gauge's core components are one or several reflex gauge glasses. One of its surfaces has grooves with section angle of 90 ° which is installed towards the chamber. The upper part of the chamber is filled with gas and the lower part is filled with liquid when the liquid level gauge is working, liquid level is clearly observed by different brightness of the glass in the liquid and in the gas/vapor zone.
To avoid leakage in case of glass breakage, safety ball-check device is usually provided in cross-fittings or shut-off valves.
Reflex glass level gauges can be used in most of the cases and offer great advantages in terms of: low initial cost, low operating cost, easy level reading, no need power supply.
Product Features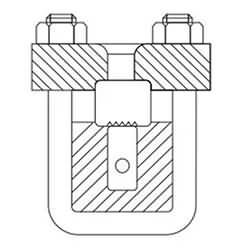 Easy to instal, cost-effective
Direct view of the fluid level
More economic solution for fluid level checking
Different refraction behavior with liquid and gas
Easy maintenance and very long service life
Suitable for steam media up to 40 bar and process media up to 400 bar
Main Technical Data
Model

Reflex Level Gauge

Transparent Level Gauge

Body Material

Carbon Steel

Titanium alloy

Stainless Steel 304/316L

Carbon Steel

Titanium alloy

Stainless Steel 304/316L

Center to Center Length

300-3600mm

300-3600mm

Visible Length

95-3360mm

95-3360mm

Glass Material

Borosilicateglass

Aluminosilicate glass

Borosilicateglass

Aluminosilicate glass

Gasket

Compressed fiber gasket

Graphite gasket

PTFE gasket

Compressed fiber gasket

Graphite gasket

PTFE gasket

Mica Shield

N/A

YES

Working temperature

≤450°C

≤450°C

Working Pressure

40bar

100bar

Connection Tytpe

Flange/Screw

Flange/Screw

IlluminationSystem

According to request

According to request

Frost Extension

According to request

According to request

Connection Layout

Side-Side/Side-bottom

Side-Side/Side-bottom